Chilean Flamingo from Safari Sam Blog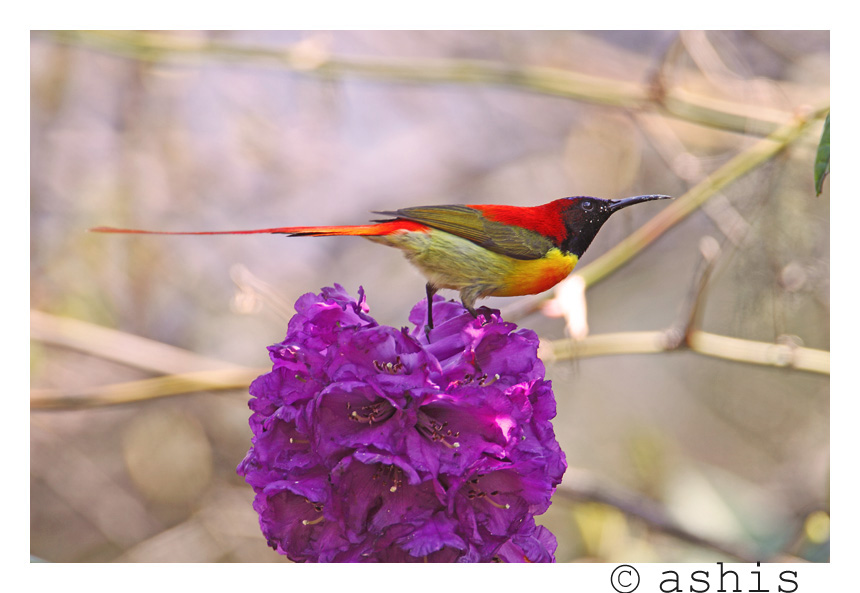 Fire-tailed Sunbird from India Nature Watch
Fire-tailed Sunbird from Oriental Bird Images
This is Part three of my three piece Rouge Bunny Rouge eyeshadow review series. You can check out the other parts here:
Part 2
,
Part 1.
The last two shadow shades I'm reviewing are (as you can probably guess from either process of elimination due to part one or the pictures above): Fire-Tailed Sunbird and Bashful Flamingo. I included a picture of a Chilean Flamingo in this review because it is the exact colour of this eyeshadow. Normal flamingos don't compare colour-wise in my opinion. Bashful flamingo is a beautiful light matte pink with peach undertones. Fire-tailed Sunbird is a medium-light coral shade with a pink reflect.
I'm going to start out this review by being quite bluntly honest. I was disappointed with both of these shades. These were the two shadows of the ones I ordered that I was the most looking forward to and they just fell short by quite a bit.
First with Fire-tailed sunbird; it's so damn sheer. This takes forever to build up and you can't succeed at that task completely. Even as a highlight (which I was hoping I could get it to work as) it just doesn't have enough intensity. Maybe part of the problem is how pale I am but overall it just isn't
enough
. For such an expensive eyeshadow I can't believe how poorly this performs.
In the photos this one appears much oranger than it is. In real life it is a peach with a pink sheen. It is a nice colour combo- very wearable in my opinion. However due to it's lack of pigmentation or sheerness of something I can't seem to grasp the only way to get any decent appearance of the shade is over pixie epoxy. Out of all the shades I reviewed this one the one I was most looking forward too performed the worst.
As for Bashful Flamingo I truly think part of my issue is how pale I am. This blends into my skin completely. Like you can't see it, can only tell it's there is you lean into the mirror and squint and tilt your head until you see a powdery residue on my eyelid.
Therefore, I
think
I like Bashful Flamingo- it seems to create a
slight
diffusing/softening effect on my eyelid but honestly, I don't know. Unlike other nude shades I don't get that instant- oh that looks nicer- feeling when I apply it and I seem to need to build it up. It's a bit powdery which I don't mind but the lack of something just leaves me underwhelmed. I think I expected a more peach-pink soft loveliness and just got nude instead.
One thing to note about the swatches below- both of these shades I found particularly difficult to swatch and photograph colour accurately. I built up both colours as much as I could but I didn't have too much luck. Fire-tailed Sunbird is much pinker and bashful flamingo is a tad darker than it appears in the pan photo but much lighter than the swatch over pixie epoxy makes it appear. The barely seeable swatches are the best representation of these and you can see why I'm so disappointed.
L: Fire-tailed Sunbird (pinker in real life), R: Bashful Flamingo (pinker in real life)
L-R: Fire-tailed Sunbird then Bashful Flamingo swatched in pairs first over Pixie Epoxy, Too Face Shadow Insurance then just over bare clean skin.
L-R: Paired Fire-Tailed Sunbird and Bashful Flamingo- Pixie Epoxy, Too Faced Shadow Insurance, Bare skin.
See the sad sheerness? And these weren't just a single swipe these were brushes loaded with eyeshadow swatched multiple times to build the colours up so you could see them.
As for comparisons the only shadow I had that I could think of that would come close to Fire-Tailed Sunbird was Fyrinnae's Rupuntzel Had Extensions and I couldn't find the shade for the life of me (and I really searched!) I don't have anything that comes close to Bashful Flamingo either (part of the reason I was so excited for both these shades- something unique). I have other brown-based nude shades but honestly swatching them side by side would be you just looking at my arm pretty-much with some skin looking a tad nicer than other bits.
Sprite Rating: Fire-Tailed Sunbird- 4/10, Bashful Flamingo 7/10. Both were too sheer and are a pain to build-up and pretty much work with in general even though the colours are nice and fairly unique and Bashful Flamingo had a nice feel to it.
Would I buy these again? No. Neither shade is worth the money or the hassle to get. I can't truly express how disappointed I was by these. Bashful Flamingo is a nice shade but as it just blends into my skin I can get a similar effect with a cheaper product. I'm sure the nuances of the shade here would be easier to see and appreciate on a darker skintone.
EDIT:
After playing around with the Bashful Flamingo shade I realized it just matches my skin colour. It has a brown undertone to it that I didn't expect and so instead of the peach/pink I expected I got something closer to my skin colour. I've come to realize it is nicely pigmented (I just couldn't tell possibly because of bad lighting and certainly because I was expecting a different colour). Therefore I have increased the rating of the Bashful Flamingo eyeshadow shade accordingly. I can't really judge longevity on it though as it blends in too well.